Demand for winter-spring rice high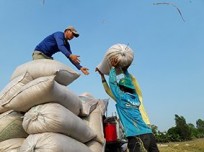 Farmers collect paddy (unhusked rice) on the field in Tien Giang Province. Farmers and firms in the Mekong Delta region have faced no sales pressure i
CANTHO - Farmers and firms in the Mekong Delta region have faced no sales pressure in the 2015-2016 winter-spring rice crop as in previous years as demand is high with enterprises still buying to fulfill export contracts.
Rice traders said the current inventory of rice in the Mekong Delta is low and severe drought and salinity have led rice output to fall in the country's biggest rice producing area.
The Vietnam Food Association (VFA) said as of February 18, total rice inventories of its members had totaled about 826,000 tons, including 66,000 tons of Vietnam Northern Food Corporation (Vinafood 1), 195,000 tons of Vietnam Southern Food Corporation (Vinafood 2)  and 565,000 tons of others.
The total volume was 300,000-500,000 tons lower than the average rice inventory of VFA's member companies in the first months of last year and nearly 800,000 tons below 1.6 million tons recorded in late September last year.
Lam Anh Tuan, director of Thinh Phat Co Ltd, a member enterprise of VFA, put the total volume of rice bound for foreign markets at 1.3 million tons. This means VFA member companies will have to buy at least 450,000 tons of rice to deliver to importers under the signed contracts.
The Ministry of Agriculture and Rural Development reported that by March 5 this year, about 139,000 hectares of the 2015-2016 winter-spring rice crop in nine provinces had been damaged by drought and saltwater, with the total volume of damaged rice estimated at one million tons.
In previous years, VFA proposed purchasing one million tons of rice for temporary storage at the beginning of March to support domestic rice prices. But in the 2015-2016 winter-spring crop, VFA has not had any storage plan because farmers can earn profit at the current rice price.
According to rice traders in the Mekong Delta, the price of fresh IR 50404 paddy is VND4,600-4,650 per kilogram, the same as last week but VND300 higher than the year-earlier period. A kilogram of unprocessed rice is quoted at VND6,700-6,750, up VND250-300 year-on-year.
Enterprises in the Mekong Delta region offer export prices of US$365-375 a ton of 5% broken rice, US$355-365 a ton of 25% broken rice and US$450-460 a ton of Jasmine rice.
Trung Chanh
(The SaigonTimes)