Vietnam sees no future in exporting fragrant rice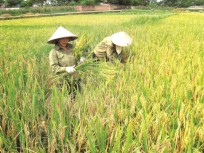 Though the scented rice exports have been increasing rapidly, the export volume from Vietnam is very modest.
VietNamNet Bridge - Vietnamese fragrant rice exports have been increasing rapidly, but the export value remain modest.
The scented rice that Soc Trang Food Company exports to Hong Kong, Taiwan, Singapore and the US has been increasing rapidly. This prompted the company to join forces with farmers in 2015 to increase the Jasmine 85 fragrant rice growing area from 1,800 hectares to 4,000 hectares. 

The Vietnam Food Association (VFA) also decided to develop Jasmine 85 into a national rice brand.

However, some experts said this was a hasty decision. 

Weak brand

In 2010, Vietnam exported 216,000 tons of scented rice, while the figure soared to 1.3 million tons in 2014. The scented rice export price increased rapidly from $460 to $620 per ton. 

Even China and Africa have imported more fragrant rice from Vietnam because Vietnam's rice has a more competitive price than Thailand's.
Australia and New Zealand have also begun importing scented rice from Vietnam. Vietnam's scented rice first appeared in the US in late 2015.

However, US consumers favor Vietnam's rice less than Thailand's, though Vietnam products sell $10-45 per kilo cheaper. Thai Hom Mali rice is exported at $1,075 per ton, while Indian Masmati $1,525 per ton.

Though the scented rice exports have been increasing rapidly, the export volume from Vietnam is very modest. 

Meanwhile, Vietnam's scented rice export price is just equal to 50 percent of Cambodia's and Thailand's. In the US, according to Dr Tran Van Dat from FAO (Food & Agriculture Organization), Thai scented rice accounts for 80 percent of the market share.

Cambodia is also a very strong rival to Vietnam. Though Cambodia cannot compare with Vietnam in terms of export volume, its export price is higher.

According to CRF, Cambodia's Jasmine can be sold for $820-850 per ton, while Vietnam's Jasmine average export price is between $450 and $620 per ton.

What kind of rice should be exported?

Vietnam is still wavering between making high-quality scented rice or low-cost high-yield rice.

VFA wants to develop Jasmine 85 into Vietnam's national rice brand. However, according to Prof Vo Tong Xuan, the Vietnamese leading rice expert, Jasmine has been abandoned in many countries. 

Meanwhile, according to an analyst, Vietnamese Jasmine rice products can be sold for prices equal to one-half of Thai Hom Mali rice and 1/3 of Indian Basmati because Vietnamese rice exporters offer low prices to scramble for export contracts.

Rolando Dy from Filipino Asia Pacific University noted that Vietnam should not follow Thailand and focus on making scented rice, but instead should focus on high-yield rice varieties which have selling prices of $700-800 per ton.