Thailand's rice clearance sale poses challenges to Vietnam traders [10.05.2016 08:19]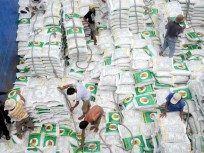 Vietnam exported more than two million tons of rice in the first four months this year. Photo: Diep Duc Minh
Thailand's plan to sell off its rice stockpile within two months has sparked concerns for Vietnamese rice exporters, many of whom have been already hitting bumps.
They said Thailand's clearance of 11.4 million tons, more than the country's annual average export, in such a short period will push prices down significantly and hurt consumption of rice from Vietnam.
Several exporters said the business is hitting a standstill.
Nguyen Thanh Long, director of Viet Rice Company in Ho Chi Minh City, said many customers from China, the Philippines and Africa have suspended their negotiations.
"They said they want more time to calculate and observe the market," Long said, as cited by Phap Luat Newspaper.
A source from the Ministry of Industry and Trade said the clearance in Thailand will put Vietnam in "harsh competition."
According to industry insiders, purchase of Vietnamese rice was affected when Thailand sold off their stockpile in the past, but the impact will be much worse this time with the record high volume being offered.
Vietnamese rice is currently cheaper than Thai products by US$5-10 a ton.
Rice in Thailand's government stockpiles is the direct competitor with Vietnamese low-cost rice, which currently accounts for a major part in Vietnam's rice export.
The trade ministry of Vietnam has suggested the agriculture ministry to make plans to reach out to new rice export markets, especially in the quality sector.
Official figures showed Vietnam exported more than two million tons of rice worth US$916 million in the first four months, up 12 percent in volume and 14 percent in value from a year ago.
China continued to be the biggest buyer, importing 32 percent of the volume.
(Thanh Nien News)