Export growth pushes up local rice prices [28.04.2016 08:05]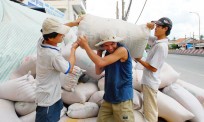 Rice bags are transported to milling plants in the Mekong Delta (Photo: SGGP)
The first quarter rice export was up nearly 58 percent in volume and 51 percent in value over the same period last year to hit US$1.4 million tons and US$577 million under FOB (free on board) term, reported the Vietnam Food Association (VFA).
The export growth has facilitated rice consumption in local market while the Government has yet to launch the annual rice stockpiling program.
Explaining the growth, VFA said businesses have sped up purchase for delivery of contracts signed since 2015. Of these, government to government contracts with Indonesia and the Philippines accounts for 51.4 percent and commercial contracts with China posts an increase of 23 percent.
The number of contracts signed in March kept increasing over a year back, which will help remain the export momentum in the upcoming time. Most of them are commercial deals on fragrant and sticky rice.
 
Beside up export demand, salt intrusion has narrowed rice area and output in the Mekong Delta. Therefore, local rice prices have sharply increased. At the end of March, fresh long grain rice was paid VND5,200, up from VND4,700 early 2016.
Vietnamese rice price has been highest compared to that of other export nations in Asia. It is US$10-20 a ton higher than Thai rice.
The rice price increase has partly made up damage caused by drought and salt penetration but raised disadvantage for some businesses who signed contracts when the prices were low.
According to VFA, the world' rice market has declined. However, the International Rice Research Institute quoting data from the US Department of Commerce said that rice inventory of five main export countries touched its peak in 2013 of 41 million tons. But the number has reduced most this year to 19 million tons, creating supply pressure for the first time since 2007-2008.