Optimistic signal in rice export of Vietnam in early 2016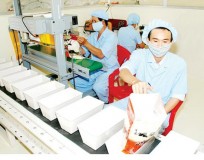 Packing line of rice exporter. (Photo: SGGP)
According to the Vietnam Food Association (VFA), export of rice in early 2016 has seen more advantages than it did in the same period last year with contracts of 1.3 million tons of rice passed from last year and import demand from large and regular markets coming earlier.
Export of Vietnamese farm produces, except cashew nuts and black pepper, faced several difficulties, including low export prices and cutthroat competition in 2015, especially rice. The total number of 6.58 million tons of rice exports by the end of 2015 caught us by surprise as the market was subtle earlier with rice export dropping in both volume and value from the beginning of 2015 to mid-October.
Huynh The Nang, chairman of VFA, said that global rice market was tough in 2015 with export prices falling extremely low. Export of rice in 2015 divided into two periods. From the beginning of 2015 to September, rice export market was gloomy while inventory was fairly high. The volume of rice for temporary stockpile piled up in exporters' warehouses. In comparison with global rice price at that time, domestic rice price was higher; therefore, rice export target had to be lowered.
Food trading and export companies, including Vietnam Southern Food Corporation (Vinafood 2), had been meeting with serious difficulties because of excessive rice supply in global market. Rice inventory of Thailand, Vietnam's main rival, was extremely high that Thai Government sought to sell rice in every way, causing severer competition. As most food exporters are small and medium businesses, excluding Vietnam Northern Food Corporation (Vinafood 1) and Vinafood 2, when the market changes, they merely receive razor-thin margins.

If there were not two export contracts to Philippines and Indonesia in the last months of 2015, many businesses would have fallen into losses. The two government-to-government rice export contracts showed up just in time like a rescue buoy. However, domestic rice market was still muted after the country won the 750,000-ton contract of Philippines, of which Vietnam supplies 450,000 tons and the rest is from Thailand, because the buyer only needed 250,000 tons of rice to be delivered by the end of 2015. Until Vinafood 2 signed a contract to export 1 million tons of rice to Indonesia, the market became vibrant then rice prices increased swiftly. Among 1.4 million tons of rice inventory at that time, Vinafood 2 accounted 400,000 tons. Big contract from Indonesia has helped businesses to solve earlier long-lasting difficulties and revive rice exporters.

According to VFA, export of rice in early 2016 meets more favorable conditions than that in the same period last year. Rice inventory in 2015 was at 300,000 tons, much lower than an average inventory of 700,000 tons of rice in previous years. Rice export contracts passed from 2015 was at about 1.3 million tons while import demand from large market was also earlier. Thus, in the 2015-2016 winter-spring crop, businesses probably will not have to buy rice for temporary stockpile as they did in the 2014-2015 winter-spring crop. VFA also forecast that, rice export market will be good until the end of second quarter of this year as large importers, such as: Philippines, China, Indonesia, and Malaysia will sign import contracts soon in order to stabilize domestic food supply and cope with drought caused by El Nino. These countries will still be potential markets for Vietnamese rice in the next several years, especially China.
According to Reuters, the Philippines' National Food Association recently announced that the country is set to buy 400,000 tons of rice for delivery in the second quarter, and may need an additional 800,000 tons to cover this year's requirements. Although Philippines and Indonesia always seek to supply food on their own, natural disasters, including storms, floods, and especially long-lasting El Nino phenomenon, has caused the most serious impacts in the past 60 years.
However, it raised concern as local rice price is higher than global rice price. As for 5-percent-broken rice, sometime Vietnamese rice was US$10-20 per ton higher than Thai and Indian ones and $60 per ton higher than Pakistani one. This makes rice exporters flinch when signing commercial contracts. Although domestic rice price has declined by $5-10 per ton, it is still at high level. Therefore, if this situation prolongs, it will be difficult for businesses to sign export contracts.
Nguyen Van Tien, CEO of Angimex, said that the fact that fragrant and white rice continued to post growth in 2015 is positive signal and favorable condition to build brand name for Vietnamese rice. There are many factors that help global rice price to recover, such as: negative effects of El Nino on food production, declining global food inventory as it was in the years prior 2007-2008, the period of food crisis. The matter of controlling pesticide residues should be resolved so as to when the Trans-Pacific Partnership (TTP) becomes effective, Vietnam will not lose its advantages when entering demanding markets in the TTP and even on its home ground.
At present, rice export contracts passed from last year are more than 1.3 million tons while winter-spring rice crop production is about 4.3 million tons, which means that around 3 million tons of rice is waiting for export contracts.
By Cong Phien – Translated by Thuy Doan
(Source: www.saigon-gpdaily.com.vn)