VN eyes Thai rice in global market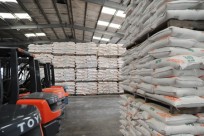 According to the association, Viet Nam's rice exports this year, excluding border trade, are expected to remain at last year's 6.5 million tonnes. — P
HCM CITY  (VNS) — Viet Nam will have various advantages in exporting rice this year though it may have to compete with Thai rice in the global export market when Thailand sells rice at stock.
Viet Nam Food Association (VFA) chairman Huynh The Nang said Thailand's government has announced the sale of rice at stock in the near future. This will be one of the factors to pull the world rice prices down and may create negative impacts on Viet Nam's rice exports.
However, if Thailand promotes the export of rice at inventory to traditional markets of Viet Nam such as China, Indonesia and the Philippines, Vietnamese rice still can compete in those markets because Thailand has a low volume of white rice while the demand from those markets is for imported white rice, Nang said.
Huynh Van Thon, chairman of Loc Troi Group, said not all enterprises in the traditional markets want to import rice at inventory, therefore, Vietnamese rice exporters still have a chance to offer their new rice to those markets, the Vietnam News Agency reported.
Nguyen Van Tien, general director of An Giang Export and Import Joint Stock Company, agreed that there is a risk in reducing the world price of rice this year to compete with Thai rice at inventory, but how this action will affect the world market will depend on the Thai government's operating policy on the rice at inventory. If Thailand uses old rice at stock to produce ethanol and animal feed, it will not affect the world market.
Huynh Minh Hue, VFA general secretary, quoted the US Department of Agriculture as saying that the global rice output in the 2015-16 crop declined by 1.9 per cent to 469.3 million tonnes, a second straight year of decline. El Nino was a major factor, causing smaller crops in many rice production countries.
Global consumption will, meanwhile, rise by 0.5 per cent to 484.6 million tonnes, making it the third consecutive year when consumption will exceed production, leading to a depletion of stockpiles.
"In general, rice consumption of Viet Nam this year will be better," Nang said.
This year, the association would focus on boosting exports to near and traditional markets in Asia, including mainland China and Southeast Asia, and increasing exports of fragrant rice to Hong Kong and Singapore, Hue said.
It would strive to expand its fragrant rice market share in Africa and gradually retrieve the market for white rice, he said.
It would work to enable Vietnamese rice to penetrate new markets, especially countries that have free trade agreements with Viet Nam, said Hue, adding that the association would this year focus on building a rice value chain and brands.
Tien said the Asian market has demand for rice but Viet Nam will face intense competition from Thailand and Pakistan while export of fragrant and high grade trice is expected to increase strongly this year due to high demand from China and Africa.
He called on the government to step up quality checks of exports to safeguard the country's prestige and to sell to demanding markets.
The association should also provide enterprises with up-to-date market forecasts and trends, he said. The government should crack down on the use of chemicals in rice production.
According to the association, Viet Nam's rice exports this year, excluding border trade, are expected to remain at last year's 6.5 million tonnes.
Last year, exports fetched US$2.68 billion, a decrease of 3.94 per cent in value despite a marginal increase in volumes as prices dropped. Asian countries were the main buyers, accounting for 74.5 per cent of exports, followed by Africa (13.77 per cent), and the US (6.72 per cent), Hue said. — VNS